Later on that day, we went on the Sandeman's bar crawl which required some involved U-Bahn hopping to get to Oranienburger Straße. The drinking began in earnest after we were warned to not take photos of the numerous prostitutes dotted along the street. It would make pimps quite angry with you. Apparently it's completely legal in Berlin.
After not-particularly-wanted free shots of Jagermeister (I think it tastes like a mixture of Listerine and Calpol) and navigating past beggars at ATMs (who ever gives them €20?!), we ended up in the 'Matrix' club. It was very big and busy but disappointingly did not play any discernibly German music. Eventually we got a taxi back and managed to blag a fare reduction by trying to speak German ('my friendlys are very drunk') to the driver.
In the morning I noticed a helpful mosquito had bitten me on the top of my foot, which is a very itchy place to choose. We had to try and book our night-train to Amsterdam, and could not do this online or over the phone. And so we U-Bahn'd to the labyrinthine Berlin Hauptbanhof (main station), which has at least four levels. After waiting for at least 25 minutes an implacable Deutsche Bahn official told us with great finality that all the night-trains were full.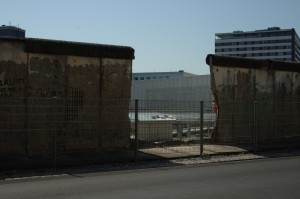 We went to visit the 'Topography of Terrors' museum which lies on the former site of the Gestapo headquarters. Much of the area is in ruins, but there is a mercifully air conditioned museum with a lot of interesting exhibits with chilling history. Definitely worth a visit and it is also free. We then went on to have another walk around the Holocaust Memorial before heading back to our hostel. We made the mistake of trying to take a short cut, and our slightly outdated map did not show us that the line was under maintenance between Franzosischestraße and Friedrichstraße. And hence a half hour journey became an almost two hour journey.
The consolation was that we were to have a barbecue on the hostel terrace with the excellent and free-to-use gas barbecue. We bought some absurdly cheap vegetables and meat in Kreuzberg (I'd say everything was almost if not twice as cheap as in Bristol, UK). Then we made excellent kebabs in the sun and watched a wasp attempt to fly into the barbecue and think better of it after several attempts. At last we had to say goodbye to Berlin and all the great people we had met, and make our way to Amsterdam via an overnight stay in Hamburg (again).
---