Munich was a destination partly because we were going in that direction anyway, and also because of the rather famous beer. The views from the train as we got closer in the evening were spectacular. The countryside was a lot more interesting than Northern Germany which mainly seemed to be boring, flat farmland. Bavaria is full of little forests, woods, lakes and idyllic houses and cabins. The laptop stayed firmly shut.
I am still not sure why train stations attract so many drunks and people off their faces on whatever else, but after navigating these predictable staggering obstacles we found the hostel, with less surrounding sex shops than usual. It was another dormitory affair and pretty standard, the bar had Augustiner on draught though which was welcome.
Next day we decided we couldn't be bothered with the walking tour this time around and spent ages trying to find somewhere to have lunch instead. We found the forbidding looking Chinese place which was supposedly authentic and had a good lunchtime deal. The only waitress in the deserted restaurant didn't speak English and gestured that the deal did not exist and we'd have to get something from the main menu instead. The only bits in English offered disgusting (sorry, I am only bothered about authenticity to a limit) things like Pig's Trotters, Ears and Stomach. We made a speedy exit and went to find a Thai restaurant called Zitronengras (Lemon grass) instead.
After a lot more walking and grumbling stomachs and mouths we found it. It was absolute chaos with three staff cooking and serving a horde of poorly queueing Germans in an open plan kitchen. The manager pretended not to speak English (we found out the next day he spoke perfect English!) possibly because he was too busy. However it was almost stupidly cheap and the food was amazing. I asked for a €2 50cl bottle of beer and the manager brought four, I managed to negotiate this down to two and took one out afterwards
A lot of the bits of Munich we walked through weren't very exciting, so later on we got the S-Bahn (free with Interrail, takes about an hour) to Herrsching, a little town with a big lake. We hired a pedalboat for €13 an hour which was great fun and only enhanced by the fact we didn't see any other English people. Definitely a good place to get away from smelly cities. In the evening we went for a gigantic Wiener Schnitzel in the studenty Steinheil restaurant. It was definitely not a €9,90 experience to be missed. We fit in a good amount of drinking in the bar later and didn't even have to make an effort to approach people as they came to us to talk!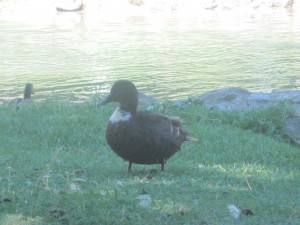 Next day we went back to Zitronengras and then went to the 'Englischer Garten', which is a big park with a rapid river running through it. We went for an exhilirating swim (mostly trying to stay above water) with a delightful absence of health and safety. It was good to not be in the UK. Next, the Hofbrauhaus, a massive beer hall with litre beers for about €7 and incredible pork with grated potato, plus an endearing lack of green vegetables common in our German food experiences.
Munich was good but I would have liked to explore more of the surrounding countryside, probably by bike as well as S-Bahn. It would be a great place for a stag do but wasn't as exciting a city as Berlin or Hamburg in terms of daytime 'cultural' stuff from my point of view. It is also pretty expensive for Germany. We were definitely glad we went though. Next stop: Lake Bled in Slovenia.
---