Our arrival in Prague was heralded by the usual predicament of the ATM awarding us the highest value note it could – 2000 Czech Koruna (about €80). Needless to say this wasn't great for ticket machines, so we had to pay at the desk who told us 'ah you have the big money!'. After resolving this though, the metro turned out to be very fast and we soon arrived at the bottom of the steep hill to our hostel. We didn't mind though, since it was pretty quiet and the streets were nice and cobbled. Before going to bed, we watched a bit of Olympic Weightlifting and talked to some English people who recommended pedal boating.
So next day we did so in a Swan Boat, no less. We had to steadfastly avoid drifting towards the weir which made the outing all the more exciting. In search of some Czech food on our street, Nerudova, we got a goulash (actually Hungarian) type soup with bready dumplings. It was very filling and just what we needed. It was a shame the wasps were so interested as they invariably instil panic in me and Lucy.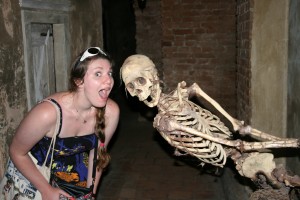 In the afternoon we went to the museum of alchemy which had many peculiar and amusing things in jars up a tower with a spiral staircase. Afterwards we went to the alchemical bar and I made the mistake of ordering Grog, which is quite possibly the most foul drink in existence. Following profuse amounts of water to banish the taste, we went to the 'Ghosts and Legends' museum, which was included on the alchemy ticket. It proved to be quite ghostly, we walked past it four times and asked two people for (correct) directions before finding it. Unfortunately it was a bit underwhelming, consisting of too much writing and not enough scary papier mache figures.
We were only going to stay one night in Prague, but after looking in horror at how long it would take to get to Poland (about a 9 hour train minimum just to Krakow) we decided to save Poland for next time and booked into 'Hostel Mango' for another two nights. So on the third day we finally mustered up enough energy to go on a walking tour. Finding the one we originally wanted proved too difficult in the packed old town square. All the different guides have coloured umbrellas, and the one we chose was Keith, with a green umbrella. Like all the other tours we have been on this was tips-based. He proved to be the best and most friendly guide we've followed in any city.
I've noticed that cities can often appear quite faceless until you know some of the history, and nowhere else but Prague was this more apparent. Unfortunately, there are far too many tourists in certain parts of the city, especially the Charles Bridge. Even worse, there are innumerable shops selling tourist crap like 'I <3 Prague' t-shirts, tacky jewellery and other rubbish. Another blight on the city is the amount of graffiti. None of it is remotely artistic and the vandals have even daubed it on some of the more historic buildings.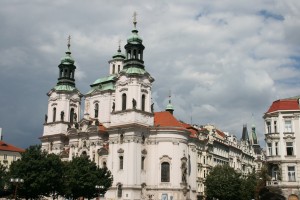 Once we'd started the tour however, we found there was a lot more to Prague than meets the eye. We heard a story about Reinhard Heydrich, the hated Nazi leader who occupied Bohemia and Moravia, the two constituent areas of the Czech Republic. He apparently liked the opera and frequently strolled around the Prague Opera House, which has a roof lined with statues of composers. Heydrich was outraged to learn that there was a statue of Mendellsohn, a Jewish composer, and ordered it to be removed. The Czech workmen detailed to this didn't know what Mendellsohn looked like however, and neither did their Nazi guards. So they said 'find the one with the biggest nose'. Duly that statue was destroyed, and only later did the Nazis realise that they had removed Richard Wagner, a German composer and Hitler's favourite.
In the evening we went to the 'Drunken Monkey' bar crawl, which came recommended by Keith. It included 2.5 hours of all you can drink, which we took a bit too literally. It was good fun though, and I learned a new drinking game from some of the many Australians trawling Europe this summer. It's called flip-cup, and involves two teams lining up at either side of a long table. Each person gets a plastic cup with a bit of beer in it. In turn from the end of the table, each player drinks and then places their cup upside down, partially on the edge of the table. Then you have to flip it so it lands upright before the next person can drink and carry on. It was great fun, and after the next couple of bars, a few fallings over, and some slurred instructions to taxi drivers later we got back to the hostel and either fell asleep or passed out.
In the morning we found the only English Breakfast in Prague, which turned out to be about £10. It was definitely worth it though to alleviate our hungover state. Unfortunately we failed to muster enough energy to go to the huge castle, so we will save it for next time. We caught an afternoon train to Bratislava.
---