We arrived in Hamburg and asked the miraculously available information man if he knew where our hostel (the 'Generator') was. After dumping our stuff, we wandered down the nearest street looking for an Internet café (broken hostel Wifi is a running theme). What we did find was seediness in all directions, and decided rather soon to turn around. Finally we took refuge in a café next to a Polizei station.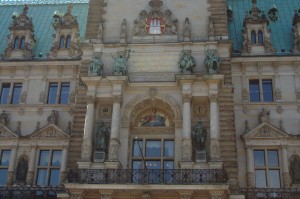 We didn't do much on the first night, but next day went on our first Sandemans walking tour. The guide was very enthusiastic and obviously very interested in the history of Hamburg, which has a florid past as a trading centre, being a member of the Hanseatic League. It has been hit by several disasters over the centuries, including a Great Fire in 1842, the black death in 1350, and Allied bombing in World War II which killed around 50,000 people and destroyed many buildings. Nevertheless, there are a great number of old and beautiful buildings plus some examples of 'brick expressionism'.
The Chilehaus was built in 1922 by a shipping magnate who traded with, unsurprisingly, Chile. The building is very unusual, featuring idealised depictions of Chilean life and the sharpest corner of a building in Europe.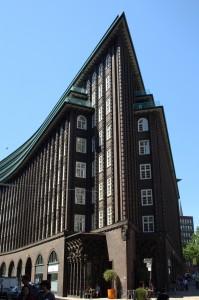 We also walked past the former headquarters of Degesch, who manufactured the infamous Zyklon B. Even before we knew its history we thought it very imposing.
We were also alerted to the presence of 'stumbling stones' which are dotted throughout cities in Germany. They are slightly raised brass plaques which each feature the name and vital dates of a victim of the Holocaust. It is a different form of memorial that people might come across by tripping.
It was comforting to find that it is not only the UK that is profligate with public money. The Elbe Philharmonic, while a very grand and modern project, is now many years and euros over the initial estimate. We were advised to ask Hamburgers what they thought of it if we wanted some explosive reactions. We also heard the amusing tale of Klaus Störtebeker, the fisherman turned pirate and perhaps a German answer to Robin Hood. Our guide's story-telling prowess is too great to try and replicate here so I will recommend you take the tour!
One last interesting thing we saw on the tour was a lot of padlocks attached to a bridge. I asked the tour guide what they were about and he replied that they are put there every Valentine's day by young lovers, who then throw the key into the river below as a symbol of their commitment to each other. If you click on the photo you can see many have names and dates engraved in them. This was only slightly soured by the fact that before each next Valentine's day the city council cuts some of them off to make room for more.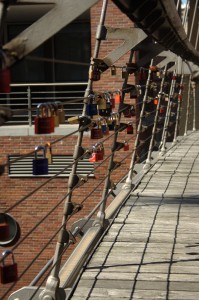 In the evening we went in search of cheap but good restaurants, and found the Portuguese quarter on a recommendation from the tour guide. The outside table we wanted got stolen from under our noses by smug and non-queueing people, but we decided to go into Casa Ricardo (in fact Spanish) on Rambachstraße anyway. Mixed tapas for €23 shared sounded and tasted good. It had very kingly prawns, deep fried anchovies, calamari rings, potatoes, crab claws, Spanish chorizo and new potatoes. While veteran eaters, we had anticipated a rather smaller portion and were also duty bound to work through the starter tapas of spicy meatballs and diced potatoes in lovely chilli tomato sauce.
The bill (zahlen) was requested with a little dread, as €23 shared now seemed rather too good to be true for our banquet. Fortunately we were wrong, and got the most surprising bill of just €45 for two drinks each, two starters and the aforementioned main! If you ever go to Hamburg, go to this restaurant!
Hamburg was a great place once we found our way out of the dodgy bit by the station. Even though we were there early in the week and so did not get a glimpse of the famously decadent Reeperbahn, it was one of our favourite places. It is not too busy or dirty and our hostel (Generator) was cheap and good. The only blip was the windows being locked in our 6th floor dormitory due to people throwing things out. This was rather stifling in the sunburn inducing heat, but I guess being British I can't complain about good weather. Onwards to Berlin aboard the super-efficient 2-hour Deutsche Bahn ICE train!
---
Hamburg - Comments