Bratislava was probably one of the less well known places we visited, but it was definitely worth it. It's also a convenient stop off between Prague and Budapest. It was much less touristy than most places we've been, being quite quiet and small for a city. On the plus side it was also probably the cheapest place, with 0.5l of the Zlatý Bažant (Golden Pheasant) lager being about €1.50. We were lucky enough to be staying in the excellent Botel Marina, which is what it says on the tin: a hotel on a boat moored on the Danube.
Arriving late afternoon, we did some well deserved sleeping before heading to the 'Krishna' restaurant conveniently located on our boat. Indian restaurants seem to be scarce in mainland Europe but this one turned out to be nothing short of brilliant. The fish curry and butter naans were some of our favourites. As bonuses, it was very cheap and had a classically taciturn waiter.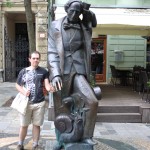 On the first full day, we went to visit the historic town centre area which was pretty close by and featured some interesting market stalls, one selling very artfully carved fruits. There were also a lot of bronze statues dotted about in interesting poses which added a lot of character to the centre. For lunch we went to the alchemical restaurant and bar which serves good traditional type food and had very friendly staff. After a further reduction of the sleep debt we headed to the close-by Jasmin Chinese restaurant. Lucy ordered 'Duck with Eight Treasures' which was the house speciality. Amusingly for me and unfortunately for her, one of the treasures was most certainly some sort of cubed offal, possibly liver or heart. That aside though, the portions were huge and the food, while sometimes unidentifiable, was very nice.
We felt we had to do something other than eat in Bratislava, so the next day we rented some pretty posh trekking bikes for the very reasonable €9 per bike (5 hours) from 'Bike Bratislava'. This characteristically (for us) took much longer to find than it should have. Once we managed to actually get them, we went back to the Danube waterfront and followed the (quite long) cycle path. On the way there were some imposing views, such as this one from under a bridge.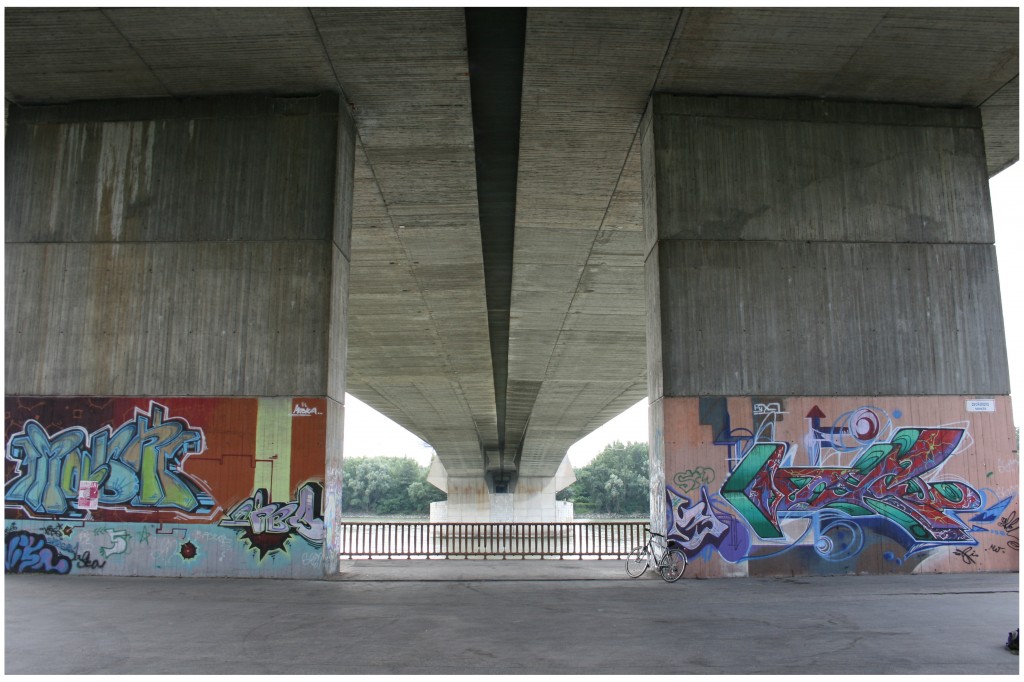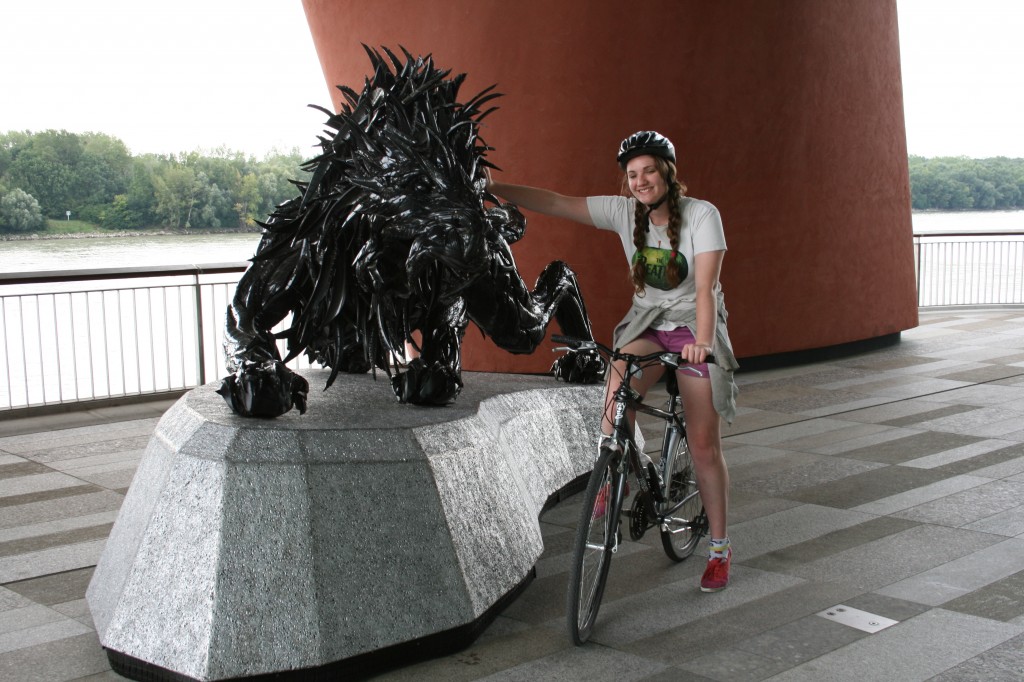 After an hour or so, despite my persistence that there would be something more exciting than suburbs around the next bend, we turned back. On the way back, we went to a rather 'trendy' looking café which was either a converted or current dance school, the drinks were great and the food decent. We headed back down the Danube and ended up in a very busy shopping centre complete with artificial beach. This turned out to not be very cycle friendly, so after a bit we returned the bikes and went back to Krishna's for some sort of Royal Tandoori banquet (definitely get it if you go).
On our last day we visited the 'Freja' spa which had a sauna, pool and great jacuzzi. If you go in happy hours it's quite cheap and definitely worth it. We also discovered that Slovaks do not go naked in saunas – the rough guide book did say they were characteristically reserved. We used Bratislava more as a rest stop than anything else, but I am sure there was a lot more to do that we did not take advantage of. One place we wanted to visit, the Novy Most restaurant/bar/UFO was just out of our price range, at €12 for soup plus a €3.50 student entrance fee! I did find some very amusing descriptions of stag-do packages in Bratislava on the tourism website though, so that might be worth a look. Next stop, Budapest!
---
Bratislava - Comments